Over the past few years, Google Cloud and SAP have established a strong foundation for their partnership. Now, they are taking it to the next level with their latest announcement: SAP and Google Cloud jointly developed a certified integration to seamlessly connect your SAP enterprise landscape with Google Cloud's powerful Data and Analytics platform. This will give organisations the best of both worlds, without needing any complex modifications to their existing environment.
What was announced?
The goal of this extended partnership is to create a comprehensive data environment for businesses. This new offering provides real-time and effortless access to all enterprise data, regardless if its critical data originating from SAP systems or from virtually any other datasource generated in Google's Data Cloud. By combining their ERP platform's data with other business and market data, organisations can gain faster and better insights to accelare their digital transformation. All of this, with a fully defined data foundation that retains complete business context.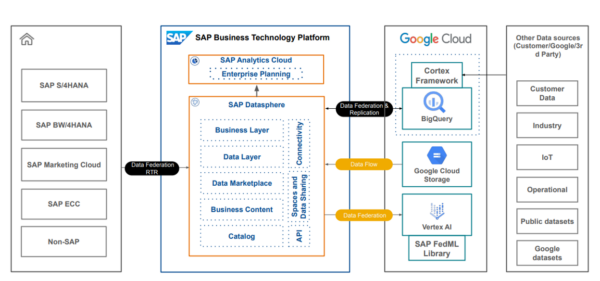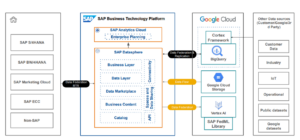 Specifically, this collaboration connects SAP's Datasphere solution with Google Cloud's BigQuery. This integration allows for a unified view of data from SAP software systems like SAP S/4HANA in the Google Data Cloud.
What's in it for you?
This new partnership makes it significantly easier to unite all of your enterprise data from disparate sources and create new insights with artificial intelligence while using your preferred tools from SAP Datasphere or Google BiqQuery. Say goodbye to data silos, and hello to insights from all aspects of your business!
It's now possible to connect your SAP ecosystem with Google's leading AI and machine learning (ML) models applied to your enterprise data. At the same time, you can leverage your SAP Analytics Cloud solution in the Google Cloud environment to enhance model accuracy when analysing financial and business data.

Customers using RISE with SAP also benefit from this announcement. They gain access to a complete data platform managed by SAP and supported by Google Cloud's global leadership in cloud infrastructure, security, and innovation. This will result in a higher return on investment (ROI) when implementing SAP S/4 HANA. 
How can Cronos help?
The Cronos Group is highly experienced and recognised as a prominent service provider for SAP and Google Cloud solutions. As a leading SAP Gold Partner, Flexso, a part of the Cronos Group, has a team of over 500 SAP experts who provide daily support to numerous companies in implementing SAP solutions. Besides an SAP powerhouse, The Cronos Group is also a Google cloud Premier Partner and houses plenty of data specialists with in-depth knowledge on all technologies used in this solution, including BigQuery and Google AI. We can provide in-depth expertise on all technologies used in this solution, including BiqQuery and Google AI. This unique combination of expertise allows us to help companies maximise the potential of their SAP environment and this new partnership.
At GC innovate, we help you to connect the dots. We bridge the gaps and serve as your gateway into the Cronos Group for all your Google related projects.. Feel free to  to explore the possibilities and discuss how our experts can assist you!